Venue
Conference Location
The
"Biomedical Sciences in Archaelogy congress"
will take place at the Albatros Spa & Resort Hotel ***** in the resort town of Hersonissos, close to Heraklion, the main city of the Greek Island of Crete. Crete was the centre of the Minoan civilization, which flourished at about 2000 B.C. There are many archaeological sites throughout the island, with the palace of Knossos being the most well known.
This cutting edge facility, which is part of the newly renovated and expanded Albatros Spa & Resort Hotel, sets new standards in elegance, up to date technology and advanced services, aiming to ensure the quality and luxury that you demand for your professional or social activity. The combination of well-designed conference rooms, the technological expertise and our knowledgeable and courteous staff who will provide any assistance guests may require, contribute in making your event a huge success and a memorable experience. It is the ideal venue to host conferences of a small or larger scale, corporate meetings, gala dinners, symposiums, exhibitions, seminars and every kind of professional or social event. Innovative solutions, modern accommodation, fully comprehensive services, upscale banqueting facilities and overall guest satisfaction are the main goals we aim to achieve.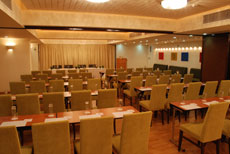 The flexible and stylish conference rooms featuring multi-purpose capabilities, equipped with state-of-the- art technological equipment, technical support and upscale services from our specialized and attentive staff make Albatros Spa and Resort hotel the ideal choice for faultless event planning. The conference centre offers 150 m2 of executive meeting space capable of hosting groups of varying sizes up to 170 persons thanks to its flexible partitioning. A variety of shapes can be arranged according to the size and purpose of the event. The conference hall can accommodate up to 100 persons in "school" shape and up to 170 persons in "theatre" shape. The conference halls are fully supported by the most technologically advanced equipment, efficiently designed and laid out to meet every demand. A high capacity (1GB) network system, comprising a wired network (1000MHz) and a wireless network (54 Mbps), has been installed to ensure maximum performance. If requested, a highly sophisticated feature of in-room technology enables guests to participate and interact by means of a web camera from the comfort of their room thanks to our unique teleconferencing facility.
Albatros Spa & Resort Hotel, Hersonissos, Crete.